STANDARDOUR DOGS SHOWSPUPPIES IN MEMORIAM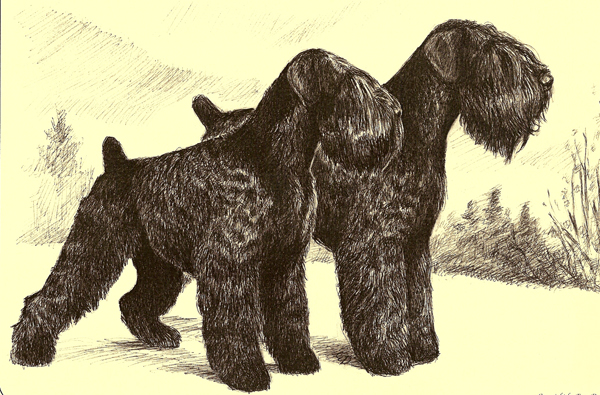 We represent you pride of Russian cynology -the Russian black terrier, who has been deduced in Russia in the beginning 50's. It is very young breed, which got divorced on the basis of already existing elite breeds of dog, such as the riesenschnauzer, the airdale, the Rottweiler, the Newfoundland with addition blood of the mastiff, the Caucasian sheep-dog and many other things breeds. In total, in experiment it has been involved about 17 breeds. At deducing the black terrier the purpose – to create a large, strong and hardy dog in work was pursued. Breed intended for protection of economic and military objects in various climatic conditions. There was an absolute interdiction on export of these dogs from the country. Only in the beginning of 80th years for the first time the Russian black terrier appears at an exhibition in Holland. For short term breed wins greater popularity in many countries of the world owing to overlapping in itself of unique qualities: dogs-bodyguards and dogs-partners. "Black pearl of Russia" - so the Finnish cynologists have delightfully named blackies.
By the black terrier it is difficult to pass in the street, not paid on it of attention. Blacky is the handsome man with a rich black head of hear both magnificent a beard and moustaches, with powerful muscles and massive skeleton possesses extravagant appearance. Growth of these dogs are within the limits of from 66 up to 80 sm. Russian bogatyr combines force and power with grace and ease. Uniqueness of breed consists still and that its representatives with equal success can live on a personal plot of a country house and in a city apartment, in fact despite of impressive dimensions, houses blackies are rather compact and borrow a few places as have no a habit to get under feet. The black terrier favourably differs from other long-haired breeds. Owners of these dogs are relieved of a wool on clothes and carpets, in fact blackies do not fade. And one more indisputable advantage of breed-wool has no smell even after bathing or a rain.
The ideal character, the counterbalanced nervous system and lively wit of this dog deliver to their owners a sheer pleasure. Blackies differ from other breeds surprisingly thin understanding of the person. They perfectly communicate with children, concern to them carefully and even is gentle, allowing all is literally. Such "bearded the nurse" parents can entrust the child with quiet soul. In family - quiet and very gentle partner.
It with pleasure will accompany with the owner in long pedestrian walks, floats blackies very much willingly and with the big pleasure brings to the owner things from water. In general all owners of the Russian black terrier are convinced, that it is absolutely unusual dog - both on appearance, and on working qualities and, the main thing on the surprising character.
If such shaggy black giant to appear at you at home, it will be for you not only the devoted friend, but also the reliable defender of your family. And houses and on walk blacky works. It firmly knows: work at it one - to protect the owner, its "flight" and dwelling. Without the reason this dog does not rush, but in an extreme situation always it will appear at height.
The black terrier is a service breed. And it means, that the four-footed oat-flakes possessing power and force, mind and cunning it is necessary to bring up perfectly and to train up, especially it concerns the dogs living in city. In general, character of the black terrier can be described briefly enough - it is spiteful, but it is not aggressive, independent, but it is not obstinate, the friend, but not the servant.
Advantages of breed

possesses the big force and the large sizes;
extremely efficient and hardy;
counterbalanced;
has good health;
unpretentious;
clever;
manageable;
mistrustful to strangers;
adapted for any climatic conditions;
does not fade and does not smell (at corresponding care of a coat)

Lacks of breed

the coat demands a hairstyle and combing

Application of breed

an ideal guard and security dog;
a dog - the partner;
a dog - the bodyguard;
magnificent breed for shows;
simply favourite of family